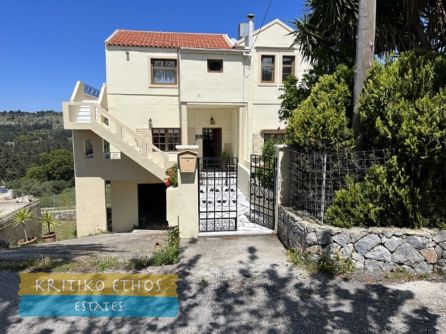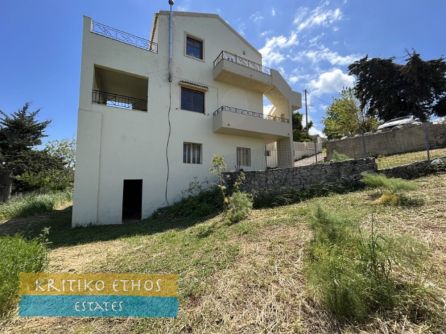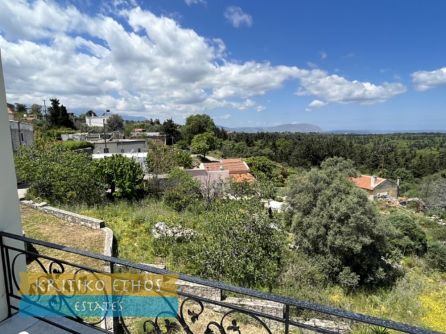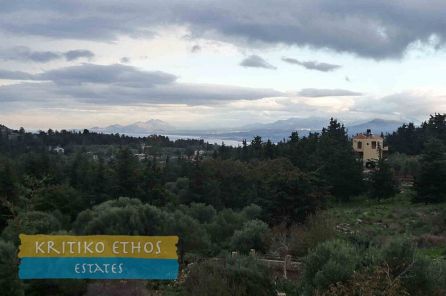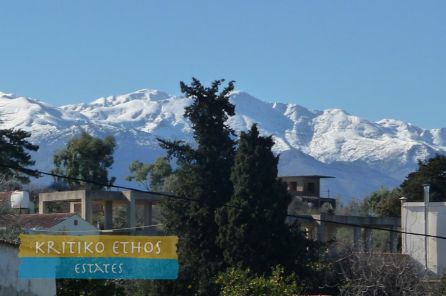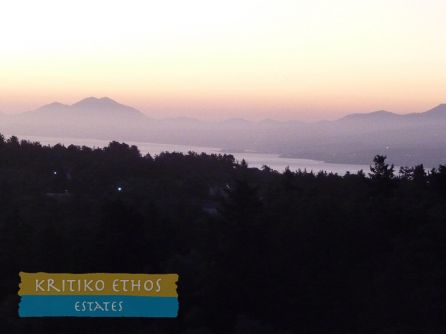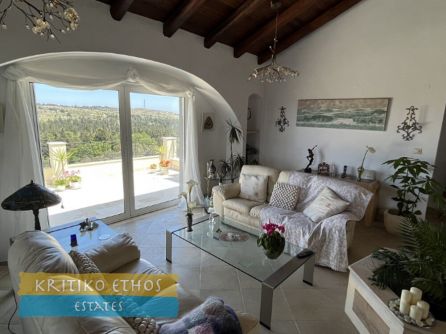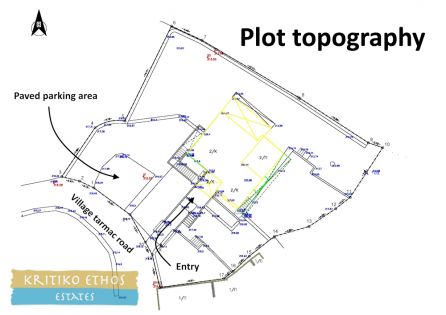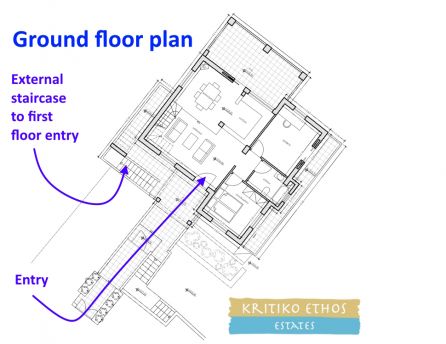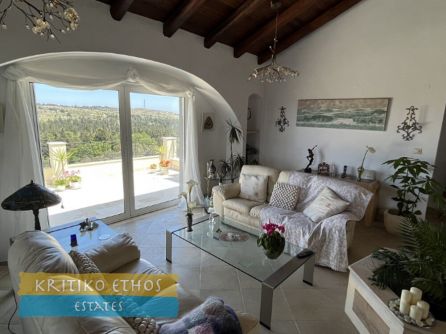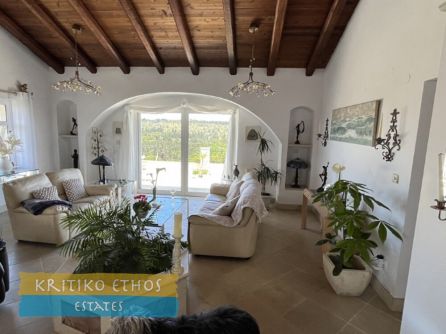 First floor terrace views
First floor terrace views
First floor terrace views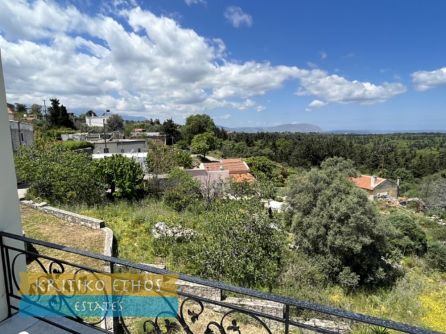 First floor terrace views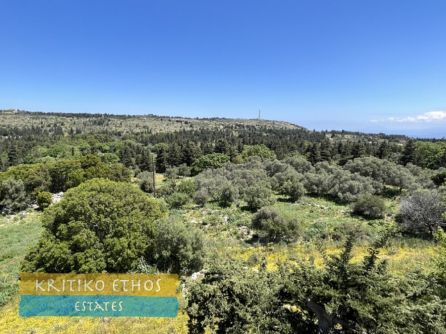 First floor terrace views
First floor terrace views
Bedroom 1
Bedroom 1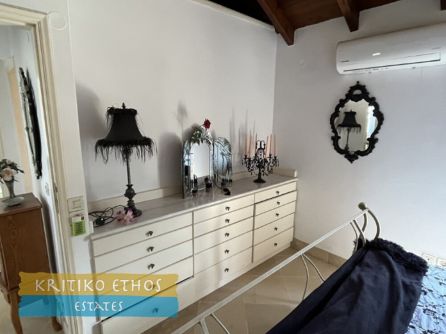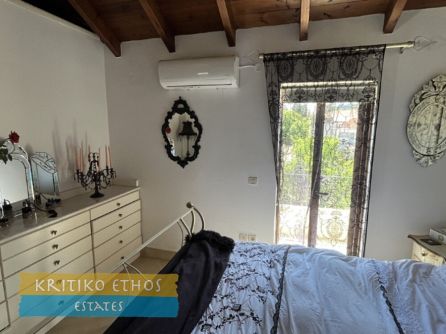 Side terrace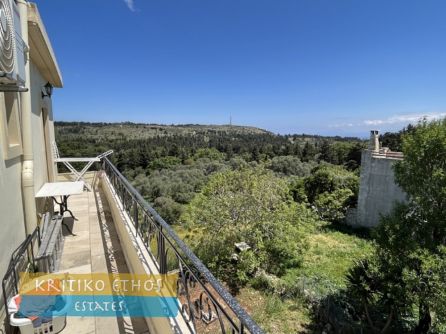 Bedroom 2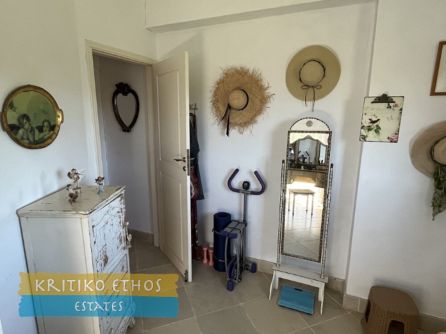 Bedroom 2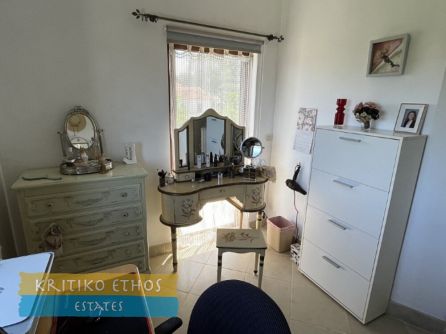 Bedroom 2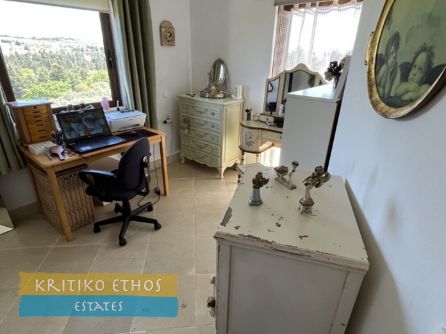 First floor bathroom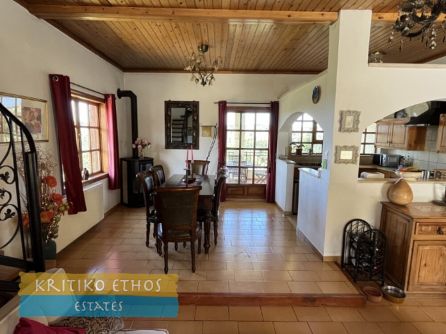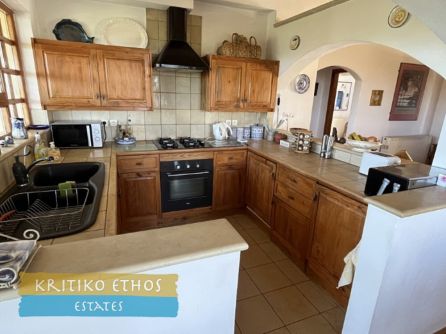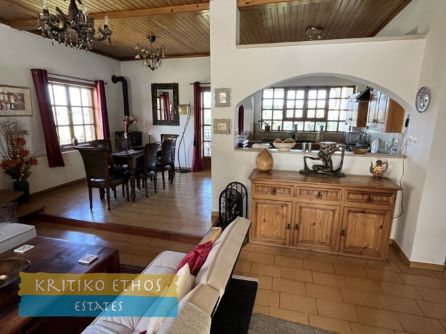 Ground floor bedroom 1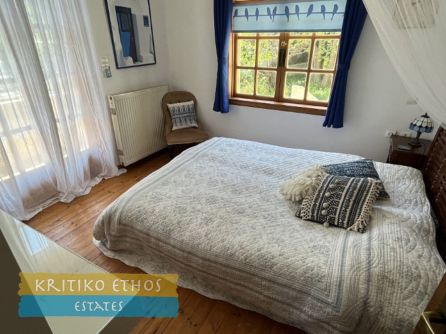 Ground floor bedroom 1
Ground floor bedroom 1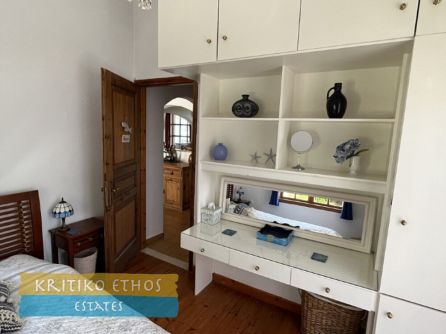 Ground floor bedroom 2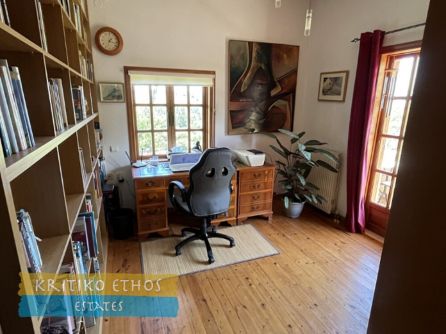 Ground floor bedroom 2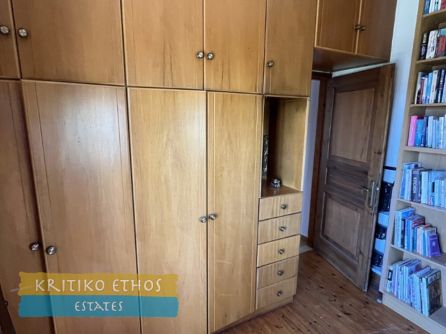 Ground floor bedroom 2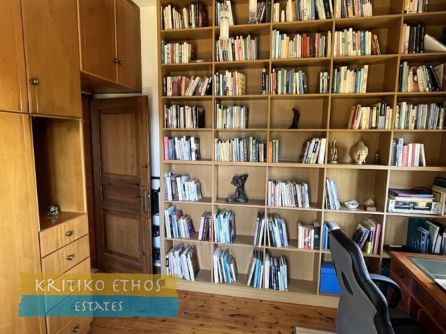 Ground floor bath and shower room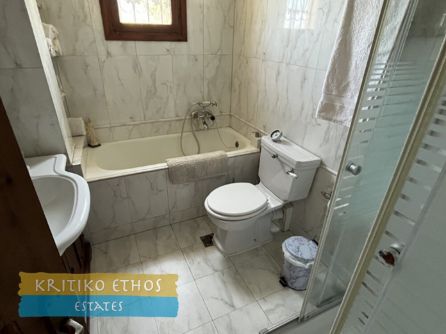 Ground floor bath and shower room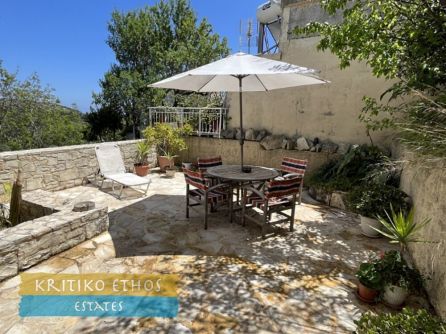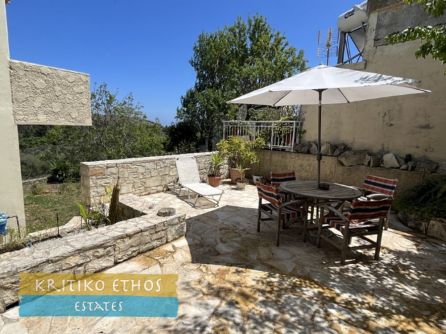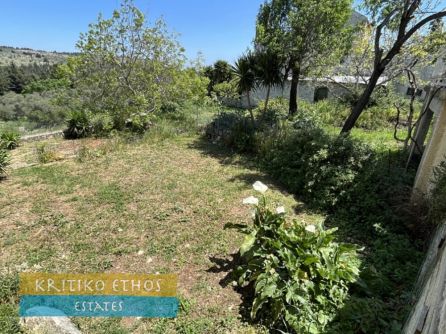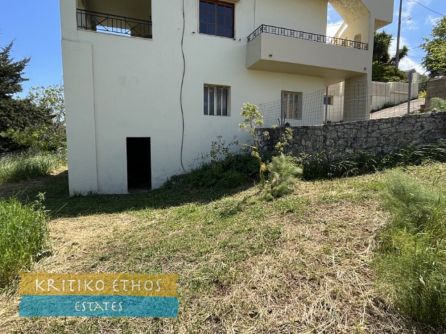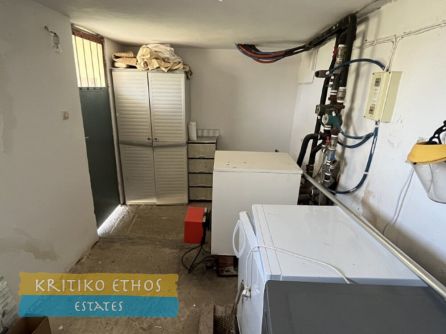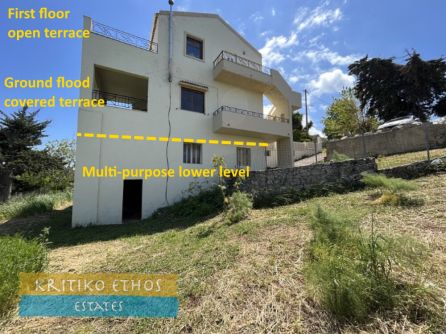 Location
Sellia
Property Code
KEH-0795
Pool
No pool / Room for a pool
About Property
This very spacious 173 sqm villa is situated on a 774 sqm plot in the small traditional village of Sellia, about 5 km east of Vamos. With fantastic views to the Apokoronas forest and the White Mountains, the home is an ideal permanent home in a quiet and very private setting. The large enclosed lower level is easily accessed by car and has plenty of open space for a home business, machine tools, and storage. This property is an excellent opportunity for someone desiring to have their own business here in Crete. The home is also suitable for good rental income possibilities with its separately accessed ground floor apartment.
At present the home is not configured as two apartments with the internal staircase having been re-opened. The owners will be pleased to show an interested potential buyer how the home can be easily reconfigured into two separate apartments if so desired.
We would like to thank the owners for the following very complete and informative property description as well as their beautiful external photos. We are awaiting floor plans of the home to help make the usage possibilities vividly clear.
This extensive modernised villa is set on the edge of the traditional and friendly village of Sellia, overlooking the unique Apokoronas Forest. The prominent situation of the house offers striking panoramic views that stretch from the Reythmnon shoreline in the west to Souda Bay in the north-east and, in the winter, to the dramatic snow-scape of the White Mountains in the south. Psiloritis, Crete's tallest mountain, is also visible.
The home comprises two floors with four bedrooms, two bathrooms and two open multi-purpose living spaces which offer a spacious and tasteful retirement or living base, with ample room for extended family get-togethers or where friends can visit or holiday in comfort.
Alternatively, the property could be configured as a luxurious 'home-working' or 'IT- business' facility with dedicated office spaces and the benefit of an existing basement which offers an open garage or working area, with a large enclosed area suitable for a workshop or secure storage.
Additionally, the property has a proven rental history. By temporarily sealing off the internal staircase it is possible to create two independent apartments and achieve a substantial summer or a longer-term rental income. The materials for this conversion have been retained and their installation is simple. Separate heating and electricity consumption can also be metered for this purpose.
The villa was constructed in 1988 by a local Sellia builder for his family. It was bought by the present owners in 2003 who have renovated and refurbished the ground floor and in 2004/5 created a light and airy modern design for the second storey. There are two separate external entrances to the house which is also connected internally with an open wood and decorated metal staircase.
Each of the two storeys has a distinct character and feel. As you enter the top floor from the external marble staircase you are met with an attractive open-living area surmounted by a vaulted wooden-beamed ceiling. This spacious enclosed area is illuminated by glass patio doors that give out onto a large stone balcony. Here you can relax in the sun or dine outdoors and enjoy the far-reaching views. The inside leisure area is furnished with two leather sofas, two modern Italian glass-and-metal tables and a rotating glass drinks trolley. Lighting is provided by Italian glass-ornamented chandeliers and a matching standing light. The next area, adjacent to the internal staircase, provides viewing of the wall mounted 42" TV. The décor is themed with Venetian and Art Deco glass tables, mirrors and sconces with a sculptural marble display unit by the entrance and an ornamental Indian stone centrepiece to the stone floor which also has underfloor heating for the winter.
The glass décor theme is taken into the master bedroom which contains a super-king size bed and fitted wardrobes and drawers. A side sliding patio-door lead out onto a side balcony. The second bedroom is currently configured as a dressing room with office space and shares access to the side balcony.
In between the two bedrooms is a striking bathroom, fully tiled in Indian ornamental stone and finished with a custom-designed 'umbrella' plaster ceiling. The bathroom contains a whirlpool bath, bidet, toilet and wash-basin.
Finally, at the top of the internal staircase there is a practical utility room containing the clothes washing machine and dryer together with a double sink, built-in laundry storage cupboards and space for domestic materials and appliances.
The ground floor is accessed through the front door and by contrast, offers a warm and homely feel, achieved with wooden casements, ceiling and floors and dark wooden dining and coffee tables, offset with red velvet curtains and carpet. In one corner is an open arched area containing a hand-built wooden fitted-kitchen with gas hob and electric oven, a fitted dishwasher and fridge and a stone-tiled work surfaces. Opposite the kitchen is a classic six-seat dining table and set in the corner is an efficient modern convection wood-burning soba with a top oven; ideal for winter chestnuts, roast veg or baked potatoes. Beyond the kitchen, a sliding door leads out onto a covered balcony with wooden dining and seating that mirrors the open balcony on the floor above and shares the same impressive views.
On a level below the kitchen and dining level is a leisure and entertaining space with two sofa-beds, set either side of a substantial polished wooden coffee table. These can also afford additional sleeping provision, for guests or their children. The ground floor contains conventional central heating radiators in all rooms which is quick and efficient.
The main bedroom on the ground floor contains a double bed and built-in storage cupboards, dresser and drawers and is themed in Mediterranean blues. The second bedroom is currently configured as a luxurious study with one wall fitted with floor to ceiling library shelving and another offering floor to ceiling cupboard storage and drawers. Both these bedrooms give out of wooden French windows onto the side balcony that runs the length of the house.
The original ground floor bathroom has been renovated with floor to ceiling marble tiling and contains a bath, shower-cubicle, toilet and a stylish wooden unit with a wash-basin and mirror.
The outside of the property offers a mixture of leisure, practical and garden areas with room for a pool along with an extensive basement providing for garage, workshop and/or secure storage.
Down a short flight of steps from the front marble walkway is a stone-clad patio with garden furniture and a mobile gas barbecue and plantings. Set under the entry terrace is a boiler-room with an oil tank, freezer, and storage for tools or household supplies. Beyond the central heating boiler there is access onto the concrete driveway that leads down from the village tarmac lane (and a dedicated concrete parking standing) to an extensive basement that offers both an open garage and closed space for storage or the possibility of an extensive workshop. There is also a dedicated concrete parking area to the side of the village lane adjacent to the home.
Below the patio and along the basement level lie two levels of land currently undeveloped but offering excellent potential for an allotment and, at the rear, an extensive sloping space that could provide a swimming pool overlooking the forest with space for a surrounding shaded and ornamental area. An existing wood store on this lowest level would provide an excellent enclosed space for the pool machinery.
The home is being sold furnished and includes all major basic furnishings, white goods and some additional decorative features. Included in the asking price are further quality furnishings and a variety of items enabling trouble free occupancy including the provision of basic kitchenware, crockery, bathroom and bed linens. The furnishings included with the property along with the optional extras included in the asking price are itemised in a reference sheet, available on request.
The Apokoronas region, whilst being rural and still pleasantly secluded and quaint is rapidly becoming popular for its excellent walking, hiking, cycling facilities and for its striking natural beauty and year-round forest greenery. That being said, local amenities and wider access is surprisingly easy from Sellia. The local centre of Vamos is only a 5 km drive and offers a bank, schools, shops, quite a few of excellent tavernas and coffee shops, and also the local tourist centre offering Greek language lessons, Greek cooking lessons, and much more! Mini-markets and tavernas are also to be found in the nearby villages of Kefalas, Xerosterni, Litsarda, Likonitara, and Vrysses. Access to the National Road leading Chania and Rethymnon is only a short drive downhill from Sellia.
Energy class: In progress
The selling price is exclusive of property transfer tax, legal expenses and agency fees.
Thinking about buying property in Crete?